It was expected that one of the most popular Christmas presents this year would be smartphones.
So now that you've got your shiny new phone, will you recycle your old one, and if so, when?
You may want to consider the following facts before selling your phone:
When you sell your mobile the timing of the sale is really important.
The mobile phone recycler you choose can have an impact on the price you'll receive.
To illustrate this, we've done some research comparing three of the top mobile phone recyclers – Envirofone, Fonebank and Mazuma.  We looked at the prices they were offering for some of the top mobile phones sold this year and compared it to the prices they offered for the same phones six weeks ago.  The results are interesting.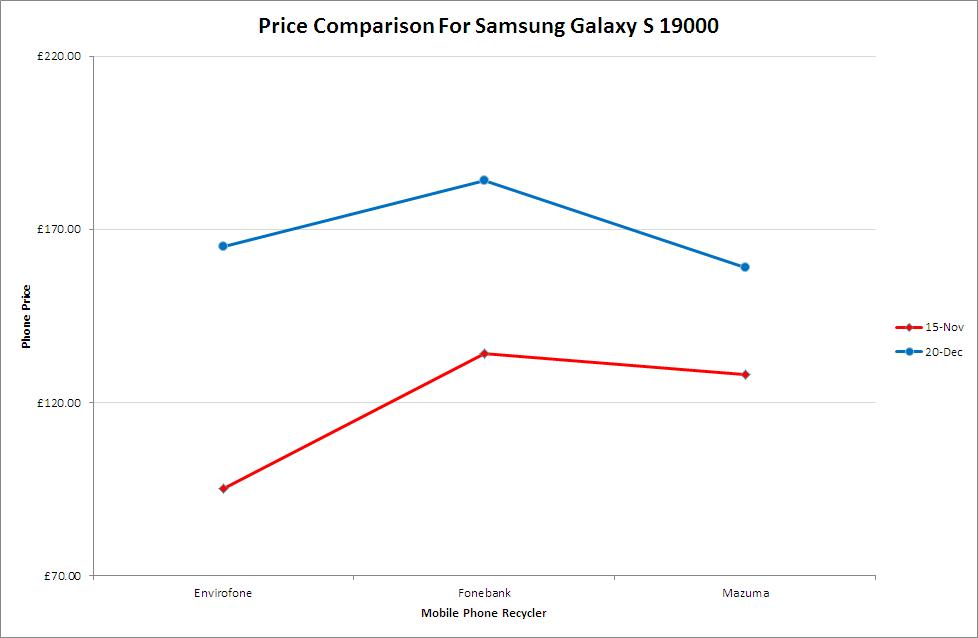 For example, if in the above chart you can see that if you'd sold your Samsung Galaxy S 19000 six weeks ago, the top price you would have received would have been £134 from Fonebank and the lowest price just £95.06 from Envirofone.  If you'd sold it this week, the top price would have been £184 from Fonebank again and the lowest price £165.09 from Envirofone.  So by waiting for just six weeks and comparing recyclers you could have received an extra £89 for your old Samsung phone!
From this example, you mustn't presume that one recycler always gives higher prices than another.  Another example we looked at was the iPhone 4 16GB.  If you'd sold this 6 weeks ago, the top price would have been £326 from Fonebank and you'd have received £300 from Envirofone.  This week however, the top price was £320 from Envirofone and Fonebank were offering the least at £310 – a reduction of £16 compared to 6 weeks ago whereas Envirofone offered £20 more.  Interesting facts aren't they?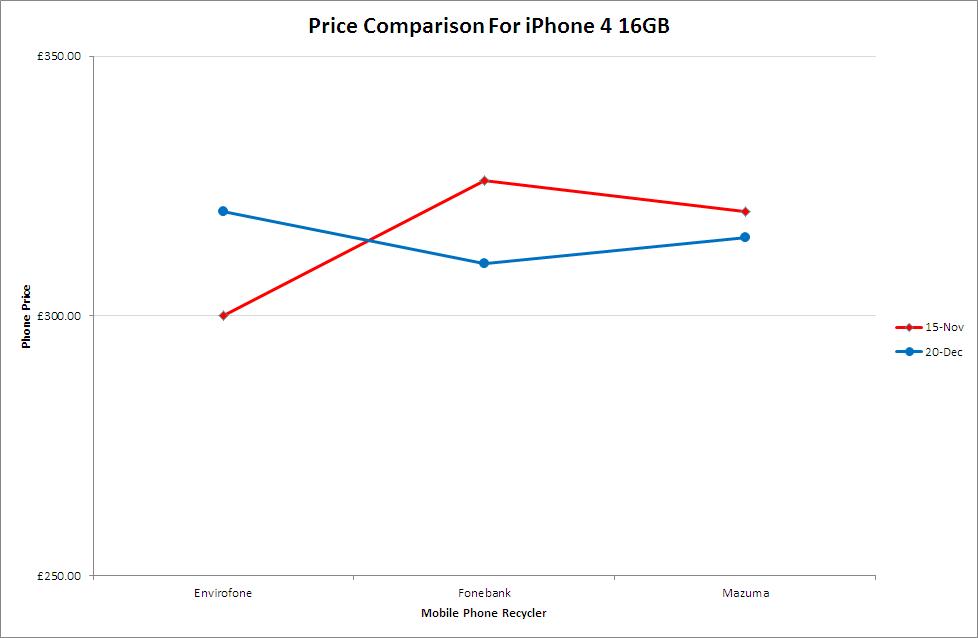 So to summarise:
The general rule is that the longer you hold onto your old phone, the lower the price you'll get for it.  Obviously, there are some exceptions to the rule.
Different recyclers can give you vastly different prices for the same phone.
Just because you got the best price from a certain recycler once doesn't mean that they'll give you the best price next time – even for the same phone just a few weeks later.
We would recommend always using a mobile phone recycling comparison site to get a full picture of who can give you what price for you old mobile.  And strike while the iron is hot!  Don't leave your phone in the back of a draw gathering dust until next Christmas!  Sell it now to get the most cash possible.